Lighting up your garden, pergola, or outside entertainment areas has never been easier. A wide range of DIY string light kits is available at all the big box stores, and installation is easy and fast. Effective lighting is an easy way of extending the use of outdoor entertainment areas beyond daytime hours.
String lights are available with glass incandescent or LED light bulbs. Due to their energy efficiency, most modern string lights use LED light bulbs in either plastic or glass bulbs. The glass bulbs have a more classic look but are easier to break, leaving glass shards everywhere.
Both glass and plastic light bulbs are used in outside string lights, but the age of the incandescent glass light bulb has ended or is at least coming to an end. Incandescent glass light bulbs are less energy-efficient and can easily be broken.
In addition, the filament inside the incandescent light bulbs has a shorter operational life than LED light bulbs. Let's look at other aspects of glass and plastic light bulbs for outdoor string lights.
Are Outdoor String Lights Safe?
Outdoor string lights have become safer and more affordable as the popularity of fitting string lights has boosted the market's products. The main risk with any electrical feature is the risk of fire or electrocution. Therefore, the lower the energy demand of the type of string lights selected, the safer they will be.
Always look for the UL listing and a outdoor rating of IP65 or higher. 
Outdoor string lights are approved for use by Underwriter's Laboratories (UL) and are labeled with the UL Listing Mark. UL engineers regularly conduct product tests on samples that they purchase from commercial outlets on a random basis. The UL website lists the names of manufacturers of decorative string lights that have been deemed safe for use.
Electrical current flowing through any conductor will generate heat if the wire is too small. This is due to Amperage; electrons being forced through the copper wire (too small of a wire for the circuit load).
Heat then causes the plastic insulation around the copper wire to melt, increasing the risk of electrocution or a fire. Most outdoor string light kits will have some safeguards in place to minimize these risks.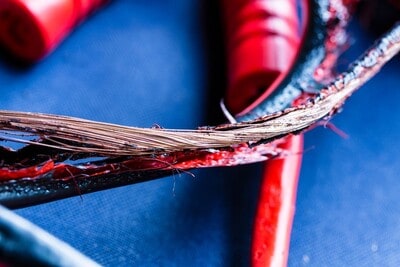 Plug the string lights into an external ground fault circuit interrupter (GFCI) outlet. These types of outlets will cut the power in case the fault sensing of the string light circuit is detected.
Battery-powered outdoor string lights are the safest option as they present no fire or electrocution risk.
Are Outdoor String Lights Waterproof?
Outdoor string lights DIY kits are identified with an IP number on the packaging. The IP rating number or Ingress Protection rating determines how much dust and moisture exposure the string lights have been designed to withstand. The water intrusion resistance of outdoor string lights is defined by code UL 588.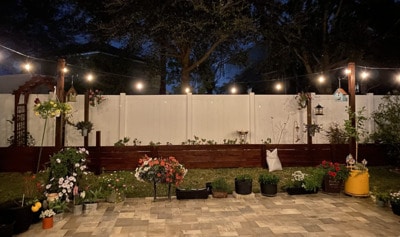 Outdoor string lights must meet the minimum standards defined by UL 588 to be deemed safe for use in an all-year-round outdoor application. In addition, all outdoor electrical fixtures must have a minimum IP rating of 65 or higher. IP65 defines a high degree of dust and water intrusion resistance.
A UL Gold Hologram security label on the packaging of the string lights for year-round external use identifies that the product has been tested against all potential risks of failure and is safe for use.
A minimum of an IP65 rating will indicate that the product is protected from low-pressure water jets from any direction. For outdoor use, all electrical installations must have a minimum IP65 rating.
What Kind Of Bulbs Do Outdoor String Lights Use?
Incandescent light bulbs can be used in covered outdoor applications where they are not exposed to rain. These light bulbs get very hot when in use, and the hot glass bulb will crack when rain falls on it.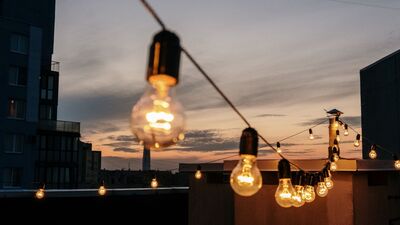 Halogens lights are similar to incandescent lamps in that the glass bulbs do not hold up well to rain. The hot glass can fail when cool liquid hits it.
Low-temperature light bulbs with IP65 ratings or higher can safely be used outside. Light Emitting Diode (LED) type lights are ideal for outdoor use. However, they will still require an IP65 or higher-rated fixture to protect them from water and dirt intrusion.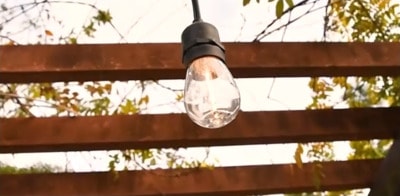 Fluorescent type lights such as fluorescent tubes or spiral CFL tube bulbs require vapor-tight fixtures to keep water out. As a result, fluorescent lights do not perform well in low temperatures. You should use them when the temperature is above freezing.
Our Top Picks On The Safest Outdoor Patio Lights
Only buy outdoor patio lights with the UL Gold Hologram security label on the packaging. Your first objective must be for the safety of your property and guests.
Our first pick is the AVANLO 96-Foot Outdoor String Lights (2x48ft) shatterproof and waterproof, dimmable LED lights. The 1 watt shatterproof LED bulbs are made of safe plastic and can be replaced. The set of two strings, each with 15 bulbs and one spare replacement bulb, is hung from E25 sockets spaced three feet apart. Check it out here
51-foot Outdoor Shatterproof string light is waterproof with seventeen sockets two feet apart and eighteen dimmable LED light bulbs, is our second pick. The 1watt LED lights to provide a warm white glow and are dimmed via a Smart Dimmer Plug from Treat life Smart Plug, which works with voice commands via Alexa. Check it out here
The Enlighten Classic LED Café string lights are our last pick for you. The 48-foot length has 24 impact-resistant lifetime bulbs. These light strings are linkable up to 750 feet in length. The 1watt LED light bulbs produce a warm white 2700 Kelvin glow. Check it out here
All three of our picks may require additional hardware for installation and power regulation where applicable.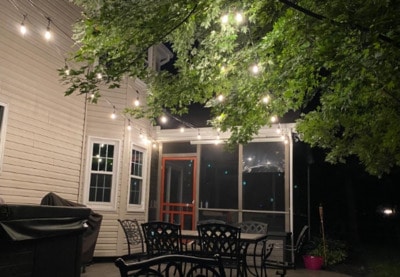 The additional items I'm talking about are things like an optional dimmer switch and securing methods and fasteners.  Check Out a Patio Light Installation kit on Amazon as well, it may save a lot of time?
These top 3 recommendations are available on Amazon. These products are all UL tested and approved as safe for outdoor use.
Conclusion
Outdoor patio string lights come in glass or plastic light bulbs. The most cost-efficient and durable patio string lights use LED light bulbs encapsulated in shock-resistant plastic bulbs.
The Underwriter's Laboratories (UL) Mark Listing program ensures that all string lights for sale to the public are correctly identified for indoor or outdoor use and seasonal or year-round use. The string lights for external use will be identified with a Gold Hologram security label on the packaging and comply with minimum IP65 ingress protection against dirt and water.
These outside string lights are safe for outdoor use. They will transform your garden or entertainment area into a warm and inviting living space.