Outdoor rock speakers allow you to listen to music when you're outside, blending into your garden and offering protection from the elements. But how far do cordless Bluetooth outdoor rock speakers reach, and will they be suitable for your garden?
Landscaping rock speakers that are Bluetooth 5.0 support up to 30ft (10m) between each speaker. Keeping them inside the 30ft distance improves functionality. When daisy-chaining more than 4 speakers, sound delay can be noticed between the 1st and last speaker.
If you like to entertain at home, a set of Bluetooth outdoor rock speakers may just be one of the best investments you'll ever make. They're a hit at parties, and even when you're not entertaining, listening to your favorite music while spending time outside wholly changes the atmosphere of your outdoor garden area. So, just how good are Bluetooth outdoor rock speakers?
Are Outdoor Rock Speakers Any Good?
As with any home décor accessory, it boils down to your tastes and preferences. Still, Bluetooth Outdoor Rock speakers are fast becoming a trendy choice in modern homes. They have become a staple in homes and are great for parties, barbeques, and afternoons next to the pool!
Aesthetics
They make it possible to listen to music outdoors. Rock Speakers also blend well into your backyard and home garden. They don't stick out like a sore thumb, and they can withstand the elements with robust waterproofing that can withstand light rain, and, in some cases, they can be left outside all year round!
Bluetooth outdoor rock speakers can completely transform your outdoor landscape, packing your outdoor space with rich, powerful sound. In addition, they are water-resistant and shock-resistant in most cases.
Effectively, your Bluetooth outdoor landscaping rock speakers will blend seamlessly into your outdoor living space.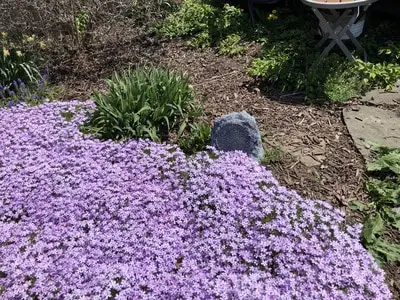 Guests will wonder where the sound comes from. Aesthetically, they also have a lot to offer, blending in perfectly with outdoor settings. Most people won't even know they were there until you've pointed them out!
Quality
High-quality Bluetooth outdoor rock speakers offer durability that no other products offer by withstanding whatever the weather throws at them, regardless of which season you are in.
Courtesy of the incredible modern technology built into these electronic marvels, they do offer improved sound quality that is perfect for the outdoors and will not diminish your experience of music or outdoor activities. They will seamlessly integrate into your life, and you'll often find that you don't even notice that they're there anymore. And, when they're not there, you are bound to miss them.
The speakers are a unique yet simple addition to your outdoor living space, which will probably have a more significant effect on your experience of the area than most anything else that you can buy.
The Landscaping Rock Speakers We Decided On for Our Backyard
Basically, I can describe by explaining my experience in purchasing and using my Bluetooth rock speakers. I do love these guys; I bought the 4 pack (not the solar versions) based on our yard layout and shade. Plus, I do not plan on leaving them more than a day or two or three (long weekend) outside.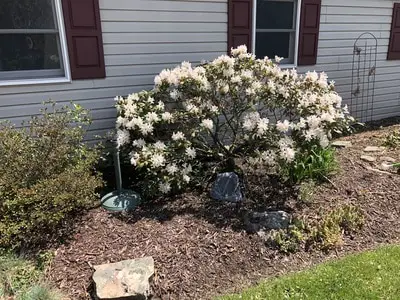 I liked the idea of daisy-chaining multiple speakers via Bluetooth to create a full coverage area with no gap in background music. Also, I thought the looks of the none solar charging style compared to the solar charging were more realistic.
So, yes, I have to take them inside to charge, but the batteries have never died outright while entertaining. The longest we had them playing from a full charge was around 8 hours. Which was 2PM to about 10PM. It would be nice if it had a battery level indicator. (hint, hint manufacturer)
We use Pandora from a spare iPhone to set the mood for the backyard based on the company we are entertaining. We bought them at Amazon…Check the Bluetooth rock speakers we purchased by clicking here. If not in stock, you can try these stores that carry the same speakers.
Solar-Powered Bluetooth Outdoor Landscape Rock Speakers
In theory, having a solar-powered Bluetooth outdoor speaker should be ready to go always. I think they are, but there are some pros and cons to them. I will try to compile my thoughts here.
First, having solar power requires the sun to recharge them. You will need good full sun that replenishes the battery before the subsequent use. That probably isn't a problem unless you are like me.
I wanted to place the speakers to look like landscaping rocks, so I tucked mine under bushes and alongside ornamental grasses around our backyard.
The only other con for me was the solar-powered did not look like a decorative rock. Instead, they tended to look more like a speaker.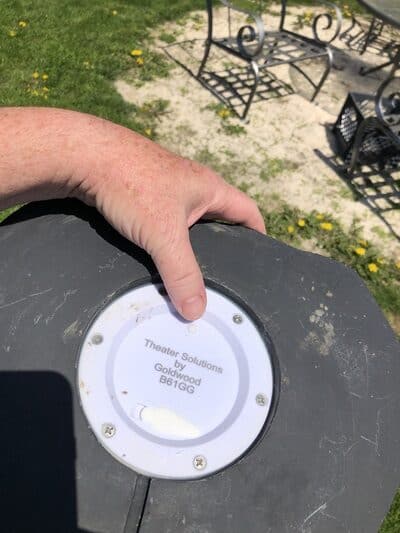 The biggest pro is that they could set out all season and always be ready to use. In either case, either solar or non-solar landscaping speakers. You will still need to go around and pick them up to pair them to your Bluetooth device before using them, more than likely. Here are the solar pair of landscaping rock speakers we thought about getting in a comparable price range. Which ones do you like?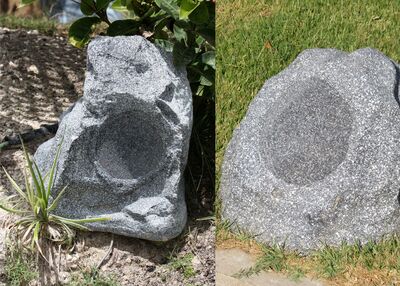 Can I Convert My Existing Outdoor Speakers to Bluetooth?
Perhaps you already have an old pair of outdoor speakers perfect for your home. The only thing is they don't have Bluetooth or any wireless functionality. So they don't offer the same seamless experience that a pair of Bluetooth outdoor rock speakers would.
And replacing your home audio system every time a new piece of technology is released is not financially feasible for most of us. But don't worry, there's a solution!
You can simply convert your current outdoor speakers into Bluetooth speakers with a handy Bluetooth adapter, which is significantly less expensive than overhauling the entire system. However, we recommend paying the extra bucks for an adapter with Bluetooth 5.0 to get coverage across your backyard or garden.
A Bluetooth 5.0 adapter will set you back between $25 and $120, depending on brand and quality, so you might find that this would be a far more affordable option for you. Here is a quick find of what I am talking about.
Bluetooth adapters can convert RCA stereo connectors. This will allow you to connect your smartphone, PC, tablet, or another Bluetooth-enabled device to your speakers.
However, bear in mind that, for the same price, you can get a pair of smaller speakers, which could be an easier-to-setup option. Only opt for changing to a Bluetooth adapter if you already have a great, weather-resistant, shock-resistant outdoor speaker setup. That you're not ready to let go of just yet. Converting your outdoor speakers to Bluetooth will not always be the cheapest option for you.
Conclusion
There's no question that once you get your hands on a pair of Bluetooth outdoor landscaping rock speakers, you'll never look back, and your garden will feel incomplete without them. In addition, they can genuinely change the entire atmosphere of your outdoor living area, making it as upbeat or as relaxed as needed!
Further, they're not just for parties or gatherings. Put your favorite podcasts or some ASMR music while you're sunbathing or play some atmospheric music to truly convert your garden into a wonderland.
This is your outdoor space; make it yours. Hopefully, the neighbors don't call the police. You may also find these articles informative…
Is It Safe If your Patio Slopes Toward Your House?
How Long Does Your Propane tank Last on a Patio Heater