There is nothing more inviting than spending a warm summer evening relaxing on the deck or patio. A well-designed patio extends your home, opening it up to the outdoors, creating more space for entertaining, but also just for enjoying the tranquility of the garden. But patio furniture is notorious for aging badly, as it is exposed to harsh sun and rain.
Good quality cushion sets can still have life left in their cushion material. The UV light from the sun can fade and weaken the exposed material. This is a great time to think of quality water repelling covers that cover even ripped cushions. However, make sure your old cushions are free of mold before covering.
You may be feeling embarrassed about your unattractive, stained, and possible flattened cushions without the extra moola outlay for a completely new cushion set. When is it a good time to get slipcovers for your cushions or a completely new outdoor cushion set?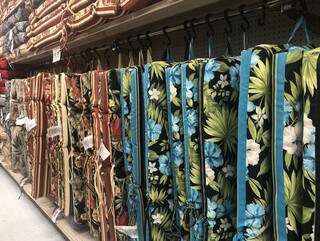 There are advantages and drawbacks to both options. One should consider various factors when refurbishing your patio lounge cushions, as comfort, durability, and versatility are essential.
Here is all the knowledge you need to arm yourself with when deciding how you will upgrade your Outdoor furniture set.
What makes the best outdoor seat cushion?
As your patio cushions get older with use, they get flattened, faded, stained, ripped, rained on, and end up looking rather uninviting. They may even discourage you from spending time outside. Something as small as refreshing your outdoor seat cushions can transform your outdoor space, bringing back your backyard's charm.
Before we compare the advantages and disadvantages of cushion covers to new cushions, let us first think about what makes the perfect outdoor set cushion?
Comfortable foam
It almost goes without saying that above all, an outdoor seat cushion should be thick, lofty, and comfortable so that you can enjoy sitting out on the patio all evening long. There is nothing worse than a wafer-thin cushion where you can feel the surface of the seat beneath it and your bum getting numb as the night progresses.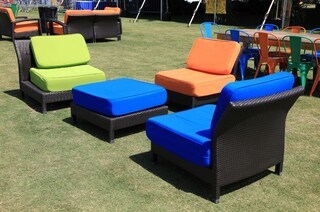 Weatherproof material
If your patio set remains outdoors permanently, it will inevitably get rained on. Outdoor cushions must be waterproof to prevent moisture from getting inside, causing mold to grow. Outdoor cushions must also be resistant to fading, as they will be exposed to direct sunlight throughout the day.
There is a difference between waterproof and water-resistant! A waterproof cushion will not let any moisture get into the foam. In contrast, the fabric will shed water with a water-resistant one, but if it gets saturated from heavy rain, the foam will still get soaked.
Durability
Life happens on your outdoor patio set. You eat, drink, and sometimes spill things, and your cushion covers will need to be washable and stain-resistant if they are going to stand the test of time.
You also want to ensure that the cushion's foam is of a high enough density and quality that they do not flatten and thin after only a few uses. Only look at cushions that are at least 5 inches thick.
Price of outdoor cushion covers vs. new cushions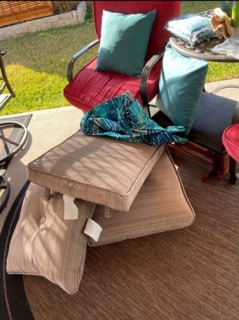 It is cheaper to replace your cushion covers than to buy new cushions altogether. You can get a range of outdoor cushion covers, varying in quality, with prices between $15 and $50. A good quality outdoor cushion cover retails for about $30 per cover, and you can get a set of four standard covers for $45.
Buying new cushions with covers included is much pricier, ranging from $40 to $120, depending on how many cushions are in a pack. A high-quality two-piece set of cushions generally costs around $80.
Keep in mind that you will want cushions to sit on and a backrest – the price can get steep quickly if you have a large patio suite. Avoid buying cushions that are very cheap, as these are usually lower quality.
The durability of outdoor cushion covers vs. new cushions
As with any product, you get what you pay for in terms of quality and durability. There are many cushion covers available on the cheaper side. Still, these are usually made from thin polyester fabric that will quickly fade. These covers are made for function over style and are great if you are looking for a cheap, short-term solution to tie you over before replacing your patio set.
The pricier cushion-covers one can buy online are waterproof, have UV-protected fabric so that they do not fade in the sun. The material is of good quality, so they will wash well if something is spilled on them. Suppose your cushion inners are still in good condition and you are looking to give them a stylish, long-lasting update. In that case, good-quality outdoor cushion covers are the answer. Look for products that are advertised as being "heavy-duty" and "weatherproof."
The same applies when it comes to new cushions. It is better to pay slightly more for cushions with a thick, dense layer of foam and are weatherproof, as these will last for longer. When you buy cheap replacement cushions, they often fade quickly in the sun. They are less water-resistant, so they develop spots of mold underneath.
Buying outdoor cushions that are mold-resistant is essential. Otherwise, you will be replacing your cushions often and at great expense.
Advantages of outdoor seat covers
If the foam inside your patio cushion set is still firm and clean, buying new outdoor seat covers is an excellent way to give your patio a pop and a style upgrade. Besides their lower price, there are many advantages to seat covers:
Easy to clean. Because covers are removable, one can just throw them in the washing machine if you spill something on them or they get dirty over time. Gone are the hassles of trying to spot-clean permanent cushions. Maintaining your outdoor cushions is much simpler when they have removable covers.
Easy to switch up. If you love playing around with the color palette in your home or enjoy changing up the interior décor style, cushion covers are perfect. Outdoor cushion covers come in a variety of trendy patterns and colors. You can have a few sets of covers that you rotate according to which color or pattern strikes your fancy.
Environmentally friendly. Replacing the cushion covers of your existing patio set is better for the planet than buying new cushions and throwing the old ones out. This way, you are not contributing more waste to landfill sites.
Which last longer – cushion covers or new cushions?
It is difficult to determine which is the longer-lasting option between getting cushion covers or buying new cushions. It depends on the quality of the cushions or covers, how often they are used, what elements they are exposed to, and how you maintain them.
Cheaper cushion covers that are lower quality will not last as long as more expensive ones. Many cushions that are patterned are made from fabrics with unique designs screen printed on them, rather than woven into the fabric. These tend to fade quickly in the sun.
Some higher-end patio furnishing brands, such as Frontgate, use patented materials, like Sunbrella® or Outdura®, for their outdoor cushions. These fabrics have been engineered to perform well against the elements and look stylish and versatile for many years. The acrylic fibers are dyed, treated with UV stabilizers, and woven together to make them resistant to water, mold, stains, and fading.
Suppose you buy good-quality cushion covers and put them on your existing cushion inners (in good shape). In that case, they should last just as long as if you had bought whole new cushions.
Maintaining your outdoor cushions and covers
Here are a few things that you can do to make your outdoor furnishings last as long as possible.
Put them away when it is rainy. You probably do not use your outdoor seating area during the winter months anyway. Store your cushions when they are not in use, so they are not exposed to extremely wet conditions.
Limit their exposure to the sun and use a UV-protection spray. On sweltering, sunny days, you can put your hand on the cushion and feel how much the fabric heats up! This is bad for the fabric in the long run. To make them last, bring your pillows out of the harsh midday sun. If you want to leave them out permanently, treat them with a UV protective spray (like sunscreen for your cushions).
Scotch guard is another brilliant way to keep your outdoor cushions clean and mold-free. It makes it very easy to spot-clean if you have cushions with permanent covers.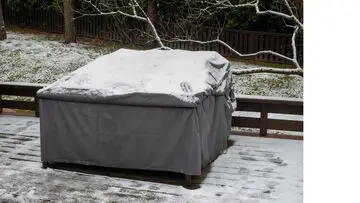 One thing that can help this is patio furniture covers; again, DuckCovers makes quality furniture covers to keep the sun and weather at bay. The downfall with the covers is that you have to remove them and store them when using the patio furniture. Check DuckCovers available on Amazon.
What enhances the benefit of the furniture cover options are for the families and individuals that are too busy for spontaneous use. Knowing that this is the weekend we are using the patio.
Details matter with outdoor furnishings
Things that may seem minor, like the type of stitching used, whether the seams are piped, and whether or not a seat cushion has ties or a zip. Picking the right stuff can make a massive difference to your patio set's overall look as to how long it lasts.
Consider the stitching on cushions and covers, as this can make a big difference in terms of durability. Double stitching is the best for outdoor furnishings because it makes the seams completely waterproof.
When buying cushion covers or cushions, look for ones that have a watertight zip rather than a flap of fabric or elastic. Some cushion covers available online are marketed as outdoors but are not actually waterproof, as they just wrap around the cushion with elastic.
Make sure to take the measurements of your existing cushions carefully if you are buying new covers for them. It can be really disappointing if the covers are too large for the inners. It causes the fabric to sag instead of looking plush and inviting.
Carefully read the dimensions of the cushion covers and their units – are they in inches or centimeters? Double-check before you buy the wrong size!
Tufted cushions look beautiful, but water pools in the indentations and soaks into the foam, causing mildew. Consider this if you want cushions that you can leave out permanently!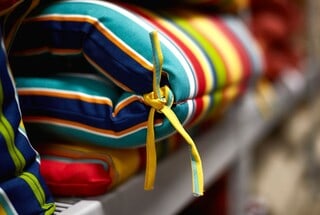 Check that the cushions or covers you are buying have ties that can anchor the cushion to the chair so that it will not move around or blow away in the wind.
Our quick pick cushions for resisting sun fade
Here are our top three outdoor cushions that are the most fade-resistant out there. All of them come in a range of colors and styles to suit every patio.
Frontgate specializes in high-quality outdoor furniture. Their cushions are made to last. The Outdura® fabric is designed to last 10 times longer than other fabrics, resisting mold, stains, and most importantly, fading. The fabric fibers are infused with UV stabilizers that lock in the color and protect the fabric.
Greendale Home Fashions make high-quality, durable outdoor cushions. They are overstuffed and deep, so extra comfortable. The fabric they are made from is water- and stain-resistant, and it is fade-proof. These cushions are made from 100% recycled plastic bottles, making them a great choice if you want to live a greener lifestyle. These are great for patio lounge sets as they include a seat and a back cushion.
Duck Covers cushions are made from spun polyester fabric that is resistant to fading and mildew. The material is water-resistant, but four tiny eyelets in the cushion allow water to run off the cushion instead of pooling up in the middle and soaking it. If you are looking for bold colors and patterns for your patio, Duck Covers make great, thick outdoor cushions perfect for chairs that do not need a back pillow.
Conclusion
So, between replacing your cushion covers and buying new outdoor cushions altogether, what is best? Ask yourself the following:
What is the condition of your current cushions? Are the inners still serviceable?
What is the budget?
Will the pillows stay outside permanently, or will you bring them in after use?
If your current cushion inners are still plush and clean of mold or mildew, buy replacement cushion covers! It is a great way to save money if you are on a tight budget. You will be doing the environment a favor by re-using your inners instead of sending them off to a landfill.
New cushion covers can last just as long as new cushions, provided you buy ones that are good quality and made to perform outdoors. There are significant advantages to removable outdoor cushion covers. They are easier to clean, and you can easily change them to update the color scheme for your outdoor space.
It is best to replace your cushions entirely if they are flattened, stained, and moldy. There are many fantastic outdoor cushions available that are fade-, mold- and water-resistant. Look for cushions that are at least 5 inches thick to ensure comfort.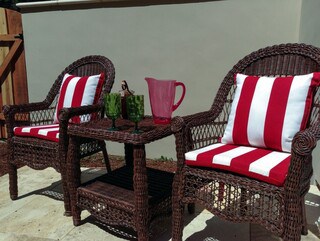 If you have the budget, invest in high-quality cushion covers to not have to replace them often. If you need to compromise on price, take extra care to keep your cushions looking true to their color and clean. Replacing your outdoor cushion set as a whole can be very expensive. Take good care of them so that you only have to replace them once a decade or so.
Take the time to maintain your outdoor cushions. Apply Scotch Guard and a UV-resistant spray, and do not leave them out in the pouring rain or blazing sun, as this will shorten their lifespan. 
Our quick pick for cushions is the most fade-resistant, comfortable, and reasonably priced outdoor cushions on the market. If your patio is looking drab and uninviting, take this advice, and give your outdoor space a makeover!
Here Is Our Opinion in a Nut Shell
Our recommended Best Cushion Covers: NettyPro Outdoor Cushion Slipcovers 4 Pack Waterproof UV Resistant Patio Chair Seat Cushion Cover  – The reason they win…Good material and craftmanship, and you can save some hard-earned cash!
Our Recommended Best New Cushion : Greendale Home Fashions AZ4808-ROMASTRIPE Tuscan Stripe 38" x 21" Outdoor Seat/Back Chair Cushion  – The reason they win…The overall attention to quality, water and UV resistant materials.  Store them away, or get quality covers they should last a long time!