Living in a cold climate has many disadvantages, like the heating bill, for instance. However, one big advantage in colder climates is the ability to make your own skating or ice hockey rink in the backyard. So, are there any disadvantages regarding an ice rink and your grass?
Most grass species go dormant in the winter months. On average, covering your grass between mid-December and mid-March will not harm your yard when temperatures can freeze water. Unseasonably warm weather will not damage the covered grass; it will just lag behind the uncovered grass Spring's revival period.
Awesome, right? Well, we dig a little deeper on covering your grass in the winter months to make a cool ice park in your backyard just keep reading.
How to Know When Your Grass is Dormant to Start Building Your Rink
There are actually two factors involved in knowing if your grass is in a dormant state. The first factor is the time of the year, and the second factor is the type of grass. Most grass species do go dormant in colder temperatures.
You have probably driven past yards that look dead in the winter and then notice they are mowing the luxurious green yard in the late spring. This is most likely a Zoysias grass or Bermuda grass.
So, if you know the species of grass that you have, you can look up the longitude of when that species typically goes dormant. If you do not know your species, let's just say google "grass species" there is a bunch.
Here is a very informative article on common American yard grasses with pictures on Backyard Workshop.
What you're left with is, you do not know your type of grass, and you just want a rink up. If the temperature has had a couple of frosts and you live in an area that freezes, let's say 24″ water line depth or more. Then, your grass has reached dormancy, and it is safe to rink up.
I live in Southern PA, and I would wait until after Christmas here to set the rink up. I would dismantle it at the end of February.
What Will Kill My Grass Related to the Ice Rink
There are only a few things that could kill your grass when setting up for an ice rink in the backyard.
Over-fertilizing prior to coverage
Leaving coverage on too long or setting up too soon.
Using any kind of chemicals in the water
Many people fertilize or lime their yards in the fall. You do not want to cover a fertilized or limed yard because the lack of water making it seep into the ground being under the cover will burn your existing grass.
This is kind of obvious based on our earlier conversation, but covering before the grass is dormant will cut off the breathing in of carbon dioxide and kill it off. On the spring side, leaving a cover too long will as well suffocate it. Most grass is hardy and will pop back maybe a week or two behind.
A great way to know when to remove the cover in the spring is buds on the trees. If the tree buds are appearing on neighboring trees time to remove your cover.
It's Time to Remove My Cover, But I Still Have Ice in the Rink
If you do still have a big chunk of ice and it is typically time to let your grass breathe, You are OK. If it is still cold enough to have ice, the grass is more than likely still dormant from the extended cold.
You can make sure any sides or construction material is removed to allow the water to run-off enabling the ice to melt quicker.
Will The Weight of Water and Ice Kill the Grass
Typically you would only make your water level about 3 to 4 inches. And that means at 4″, you would have 20.77 lbs. per square foot of weight on your grass. While the whole body of ice (or water) is heavy but spread out over the rink, it is less than 1 lb. per square inch.
An average 180lb person has a rounded average of 38 square inches per shoe if two feet are used; that means a person standing in your yard is exhibiting 2.36 lbs. per square inch of force or weight on the grass.
If your yard is not level and you have a lot of weight on the low side of the yard. It would take over 60 inches of water to put the same 2.36 lbs per sq inch.
Making a rink on very unlevel ground is not recommended because of the thermal and weight distributions. This will cause the ice to take longer to freeze in one spot, allow it to expand greater and more than likely cracking from the deep (or thick end) to the more shallow (3 to 4" end)
Would an Ice Rink without a Liner Be Better for My Grass?
It could arguably be better for your grass. However, it is not a fact that I know of yet. Doing a rink without a cover or tarp base will allow water to escape on warm days.
Using a good white-sided tarp or heavy plastic is your best bet to keep uniformity to your rink. Here is a great white-sided tarp for making your own rink out of 2X4's and the tarp.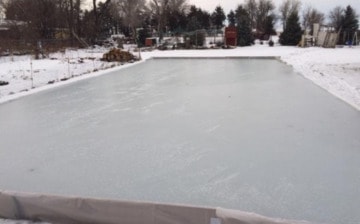 It comes in a big roll and may be easier to cut off new each year rather than trying to clean and reuse one. It is available on Amazon. Check it out by clicking here.
Are There Steps You Should Take to Help Your Grass for a Rink
No, by following the basic outline of your seasons and your grass type, you are good to go.
Here is an established easy setup Ice Rink Kit that comes with everything you need. Easy to assemble and setup. I like it because a single mom can set this up for her kids. Here is the link to Amazon.
How Level or Out of Level Can My Yard Be for a Rink
The basic ice rink kit, like the one mentioned above, requires a spot to be as level as possible. A good rule of thumb is; if you drop a ball and it rolls away, it's not level enough.
While you should put your sideboard reinforcements on the ground directly, you can, in theory, level up under the tarp cover with foam board insulation or plywood.
The ice will freeze and perform better if you have the bulk of the thickness uniform. So, one side could be 3," and the other side is 6″. However, the more uniform and level the base, the better the frozen surface will be.
Need More
We hope this has helped you out. If curious about what we researched, check the links below—our recommended products.
EZ-Ice Rinks
Amazon Tarp
Boards from Home Depot
Ice Scrappers levelers
Gear.