Ever have your round umbrella leave sun shining in your or your guest's face? Of course, you have seen rectangle or oblong umbrellas in stores, but perhaps you have wondered if they work the same?
A rectangular umbrella works the same as a round umbrella. The difference is an oblong umbrella provides a larger area of shade, typically for long tables. Therefore, you can use an oblong umbrella on square, round, or rectangle tables. However, the larger umbrella generally requires a larger base for proper support.
That may seem like common sense, but let us keep reading to find out the specifics and advantages of a rectangle or oblong-shaped umbrella.
Does Your Oblong Umbrella Require A Special Stand?
Rectangle umbrellas do not require a special stand. Although, you should make sure that your base is the proper size for the height and weight of any shaped umbrella. Below are the recommendations for appropriate bases.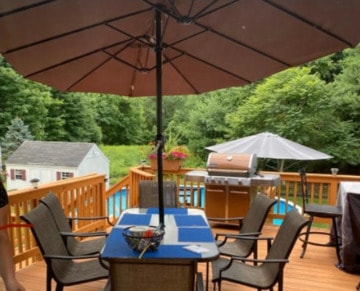 This information will help make sure you have the proper base to keep your umbrella from flying away. You do not want to lose your umbrella to a sudden wind. It is a bigger sail to capture the wind, in a manner of speaking, so make sure to know the exact weight and height of your umbrella. Here is a quick reference.
Appropriate Size Bases for Umbrellas Fixed Through Tables and Fixed Bases
If your umbrella is 6ft or smaller (at the biggest), the recommended base weight is anything between 20-29lbs.
If your umbrella is 7.5ft to 6ft, the recommended base weight is anything between 30-39lbs.
If your umbrella is 9-13ft, the recommended base weight is anything from 40+ lbs. However, some maintain that if you start getting to the 11ft mark, 50+ lbs. is better, and even more for more giant patio umbrellas.
To learn more about bases and stands, check out our article: Will an Umbrella Stand By Itself Without a Table?
From our research, rectangle or oblong umbrellas are slightly heavier than round umbrellas but not by much. We have found the material or quality of the umbrella affects the weight to a greater extent.
The shape of the umbrella does not seem to affect the weight of the umbrella. Rectangle, oblong, and round umbrellas weigh anywhere from 10 pounds to 15 pounds. I noticed that the pricier the umbrella was, the more it weighed, which is likely caused by the material and quality of the umbrella. There are different types of poles used on patio umbrellas, including wood, metal, and fiberglass. The pole and the material are what make up the majority of the weight of your umbrella.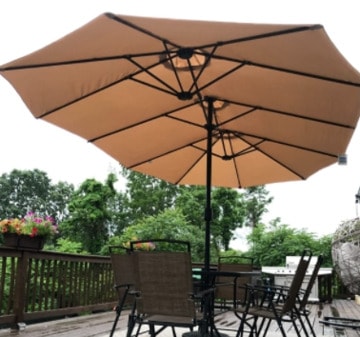 Typically, the quality is rated via fiberglass, wood, metal.
The weight is in this order of low to high: fiberglass, metal, wood.
Most manufacturers mix the construction materials to improve quality and weight while keeping it at a lower price point to attract more potential customers.
Will A Rectangle Umbrella Spin Like A Propeller?
The base or stand is significant regarding the umbrella not spinning. Sometimes middle to higher-end tables have a rubber compression ring that can help keep your umbrella from rotating as well.
Most appropriate size bases have compression screws or rings that can secure against the umbrellas pole. This allows it to fasten in place and not spin.
However, it is possible to tilt an oblong umbrella and create a cantilever effect of weight (or, in other words, more weight on one side of the pole than the other). This tends to generate a higher tendency to spin as well.
How Do They Compare in Price With Round Umbrellas?
The prices for rectangle umbrellas can be slightly more expensive than a traditional round umbrella. The difference averages about $30 more for a rectangle umbrella over round. The ones we looked at were 6.5 ft x 10 ft long over a 9 ft round.
The larger oblong umbrellas are generally 2X higher (or about $70) over the average round umbrella. Of course, if you are purchasing your umbrella online, you may have to add shipping costs. The oblong umbrella we examined was 9ft wide x 15ft long.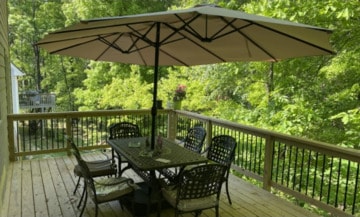 The price can also increase when you purchase an umbrella with additional features. Some of these features include tilt function, vented canopies, solar LED lighting installed into the umbrella, and umbrellas with a fixed base.
Can You Tilt a Rectangle Or Oblong Umbrella?
Yes, you can purchase a rectangle or oblong umbrella that tilts. There are also rectangle or oblong umbrellas that do not have the tilt feature. The choice of this option would solely be based on preference. An advantage of having an umbrella that tilts is you can adjust the angle of your umbrella to shade the table against the angle of the Sun.
The disadvantage of having a tilted umbrella is; that you may need a larger base to support the off-centered weight created from the umbrella's tilt.
Does An Oblong Umbrella Really Shade a Rectangle Table?
Personally, I would say yes. Having a rectangle umbrella with a rectangle patio table, I do find adds shade to the whole area depending on the Sun's angle, of course. It is best for a rectangle table. The only thing better is perhaps an awning, or pergola, or something of the sort.
I further feel, having the same shape umbrella as your table is more aesthetically pleasing. Also, with the extra shade from your rectangle umbrella, you do not have to worry about your guest getting Sun in their eyes. Or maybe even a few raindrops (because it always rains when you have guests over, right). If you were to have a round umbrella with a rectangle table, the table would be exposed to Sun and weather.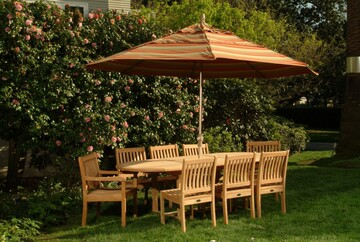 However, the angle of the Sun at different times throughout the day affects shade from any umbrella you are using. Therefore, your umbrella size should be large enough to shade the area of your table.
A good rule-of-thumb is to go 3 feet larger to allow for sun angle (different times of day and different times of the season). That is 1.5 ft bigger in radius from the pole than the table is.
For example, since we are talking about rectangle tables and umbrellas here. Let's say we have a rectangle patio table (like this one at Amazon) which is 38" wide x 68″ long.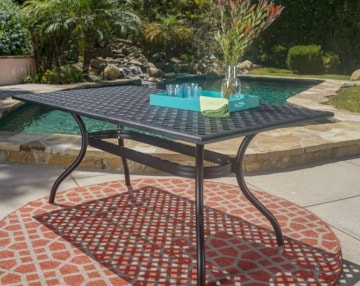 Therefore we should look for an umbrella ideally that is 74 inches x 104 inches. Well, if you can't find the exact size (which we didn't), it is better to round up more oversized, so our closest match is this 6.5ft x 10ft umbrella at Amazon.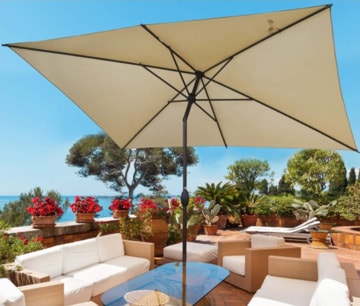 That is 40 inches wider and 52 inches longer than the table in our example. The bigger is better in this case because the chairs add another foot or two to the size of the needed shade.
Our Consensus On Rectangle & Oblong Umbrellas
Overall, when buying a rectangle umbrella, you must consider your table shape and desired shade area. Then we have options like; is tilting needed (based on season and time of day use), base and stand requirements, and any additional features desired like LEDs. Price is a big part, but most people realize that one.
All these factors play a big part in purchasing a new umbrella for your outdoor space. Rectangle umbrellas can provide a larger shade area. Still, just like any other umbrella, the Sun angle is the most significant factor that will affect your shade area.
Check out our favorite shaped umbrellas; all of these were considered for use with a table…Check them out…Do you agree with us?
Our best round umbrella: 9 ft Solar LED Light Half Outdoor Umbrella Patio Table and Market Umbrella with Push Button Tilt 7 Different colors are available in 2 sizes with LEDs.
Our favorite rectangle umbrella: 9'x7′ Rectangular Solar Lighted Patio Umbrella, 30 LED Lights, Crank and Tilt               5 Different colors with LEDs.
Our favorite oblong umbrella:  15′ Steel Rectangular Outdoor Double Sided Market Patio Umbrella with UV Sun Protection & Easy Crank  5 Different colors available!
Need More?
We hope we helped answer any questions you may have had regarding oblong umbrellas. In addition, the articles listed below may be something you want to check out if you did appreciate this article.
Check out our full article on purchasing the correct base for your umbrella!  Can a Patio Umbrella Stand By Itself Without a table?
Check out our article: Seat Cushion Covers vs. New Outdoor Cushions, What's Best?
Looking to add some glow to your patio without attracting bugs? Check out our article on Patio Lights That DON'T Attract Bugs, Which Colors Are Best?